Cambridge MA/Stone Pony...Asbury Park NJ
Night two....
see this band if they play near you. You will thank me ;)
Also, if you recall, I had knitted some wrist band things a while back. It had completely slipped my mind (code for too much tequila) but at the beginning of December when we went to see Marah in NYC and Philly, I had passed on one of these to Kirk to give to Dave (my devious crush).
Cut to the Cambridge MA show a couple of weeks ago. I had noticed something on Dave's wrist, noticed his ratty hand warmers (thinking maybe I should make him a new pair)....I couldn't read the green writing. I came home that morning and downloaded my pictures. At first I thought my eyes must be fuzzy and thought I couldn't possibly be reading MARAH. Then when I figured out it was, I was shocked!! Who got the bright fucking idea to copy MY idea! How dare they?! A couple of emails and a phone call later, my sweet doppelganger, Alexa remembered that we passed it to Kirk to give to Dave.
The Asbury Park show was the next day. I caught up with Dave in the hotel room *cough* and he told me how much he loves his wrist warmer and how he wears it all the time. :-) I showed him my "DAVE HOT" version and he tried to get me to trade for it ;) I'm thinking about making some wrist warmers that have MARAH on the cuff.....so he doesn't have to wear both the wrist band I made and those ratty hand warmers he is sporting lately. addendum....we were, unfortunately not alone in that hotel room for what its worth. ;)
Night one...Cambridge.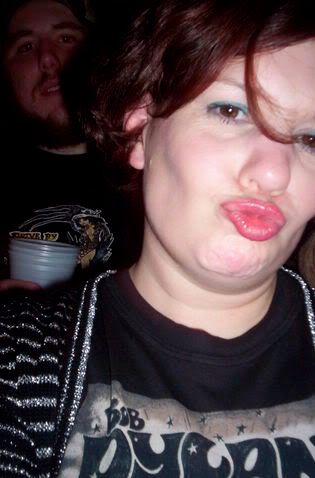 Dave in above mentioned wrist band...