Hats, hats...
Some pictures of recent knitting projects!
Ok. This one was made for a music friend who requested a hat after seeing a different hat I had made at least TWO years ago! The original one can be found way back in my archives...probably one of my first posts. It was black and it had red skulls around the perimeter. Tommy requested just one skull. This was my second attempt at this one. I didn't like the first skull and thought it was too large. This one came out pretty much the same size. :sigh: I'm sending it anyway.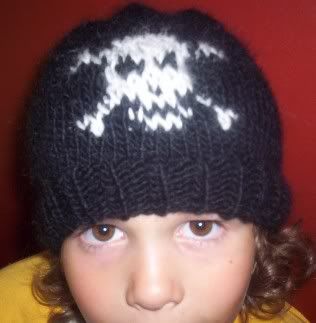 Next up is a hat knit for another friend who happens to be a fantastic musician. His website--> http://www.travishopper.com/ The poor guy has been waiting since last winter when I promised him a hat. Now that's it's probably 115 in Texas he's getting his hat. Better late than never I guess.
Alrighty. Lately I've been reading about a fun craft swap on Craftster. The girls are taking altiod tins and revamping them into a little trinket box. I signed up and got a partner who chose the theme of "swing dancing". Definitely challenging. But after I redid it 14 times (and I'll post the pictures after she receives it in the mail) I decided to make one for my friend Alexa to send her Cherry Pie necklace in. So, here it is. Alexa has a love of those little "hot dogs". She also digs the rock and roll and is ME except for she's younger and single. I don't think I've ever met anyone who was as similar as me. And here is her tin. It was fun.
outside:
inside: